As a then confirmed Blackhawks fan I was never a fan of his but always appreciated his superb play and calm off ice demeanour.
Maple Leafs legend Johnny Bower dead at 93
Hall of Fame goalie led Toronto to 4 championships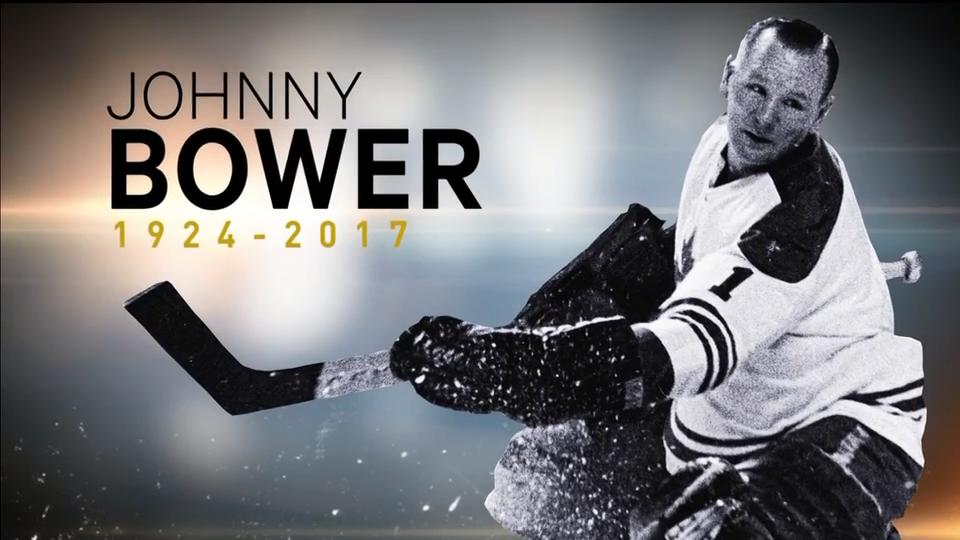 Canadian hockey legend Johnny Bower died Tuesday.
The 93-year-old was battling pneumonia, according to a statement from his family.
Remembered by many for his brave play on the ice and his gracious demeanour off it, Bower got his start in the National Hockey League at an age when many players would be considering retirement.
Becoming a professional athlete at 35 is practically unheard of, but it serves as a testament to the hard work and perseverance that "No. 1" demonstrated throughout his life.
A legend in the making
The Toronto Maple Leafs legend, Hockey Hall of Famer and two-time Vezina Trophy winner toiled in the American Hockey League for 13 seasons before earning a permanent spot in 1958 as the Leafs' goaltender.
Originally named John Kiszkan, he was born the only boy of nine children on Nov. 8, 1924, and came of age in Prince Albert, Sask., during the Great Depression.
He was self taught, playing in pickup games on ponds using a crooked tree branch as a stick and old mattresses as makeshift goalie pads.
"When I was a little guy we had nothing at all," Bower once said. "But the ambition that I had as a kid was to play hockey as long as I could because it was always my dream to have my name engraved on the Stanley Cup."
When the Second World War broke out, Bower demonstrated a self sacrifice that would carry through the rest of his life.
Though just 15, he lied about his age to enlist and was sent to serve in England, where he would spend the next four years.
He was discharged in 1944 because of rheumatoid arthritis and returned to Prince Albert to pick up his hockey dream, beginning his career with the Blackhawks of the Saskatchewan Junior Hockey League.
It didn't take long for Bower to catch the attention of scouts from the American Hockey League, and in 1945 the Cleveland Barons offered the 21-year-old his first professional contract.
I just can't explain the feelings of winning the Cup that you have inside you. You're like, 'Oh my gosh, I finally did it after all these years.'- Johnny Bower
He spent eight years in the AHL, regularly winning more games than he lost, but jobs in the NHL were hard to come by.
"There were only six goalies in the NHL at the time. I couldn't beat them; at least I thought I couldn't. I still didn't give up. I just kept working," Bower said.
In 1953 he got his shot, joining the New York Rangers and playing all 70 games. However, the following season he was displaced by Lorne (Gump) Worsley and spent most of the next five years in the minors.
Undaunted, Bower continued to work toward his Stanley Cup goal with extraordinary play in the AHL, where he still holds the record for most shutouts at 45 and most wins with 359 in 592 games.
'China Wall'
"They nicknamed him China Wall down there because no one could get by him," former teammate Frank Mahovlich said in a television interview.
In the summer of 1958, the Toronto Maple Leafs claimed Bower in the intra-league draft, hoping he could shore up a weak team while they developed their younger players who would eventually form the core of a championship team.
"Here I was, 35 years old and even though I didn't give up, I said, 'I can't help Toronto,'" Bower said. "It was my wife Nancy who told me, 'You had a childhood dream and it's your opportunity to go. If you don't make it, you don't make it.'"
Despite his initial hesitation, it was under the spotlight at Maple Leaf Gardens that he would thrive and become a legend to the fans in Toronto and the hockey community at large.
http://www.cbc.ca/sports/hockey/nhl/joh ... -1.4464967